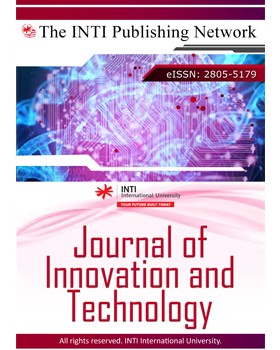 Journal Information
eISSN: 2805-5179

The Journal of Innovation and Technology (JOIT) is an international journal, which publishes original research articles pertaining to identification, illustration, analysis, prediction or innovation of new technologies and evaluate their impacts on the industry and global marketplace.
JOIT is an international, scientific and open access periodical published in accordance with independent, unbiased, and double-blinded peer-review principles.
Journal publishes Quarterly (March, June, September, December). The publication language of the journal is English.
The Journal of Innovation and Technology welcomes article submissions. Submit your article today and gain worldwide visibility for your article.
About the Journal
The journal of Innovation and Technology (JOIT) is a double-blind peer reviewed journal that provides quarterly publication of articles in areas of Innovation and technology with a wide variety of possible applications such as such as biology, engineering, health care or education and likely impacts in ethics, policy and law, marketing, management and the socio-cultural environment. The main objective of JOIT is to provide an intellectual platform for international scholars.
JOIT aims to link theory with application or case studies with the objective of identifying good practice and encourages interdisciplinary and transdisciplinary research in relevant fields. It is committed to the sharing of knowledge beyond the single-discipline or single-country by offering a meeting space for scholars at large.
The journal publishes a broad range of theoretical and empirical work relating to the innovation and management of manufacturing technology, the integration of the production, design, logistic supply, marketing issues and the latest developments and solutions to current problems from the balanced viewpoints of academics, practitioners, consultants and entrepreneurs.
Original research papers and state-of-the-art reviews are invited for publications. It also hopes to encourage a culture of writing and publishing among academicians, graduate students, practitioners, and others interested in the related research areas.
The journal is published online.
Journal Index
Google Scholar