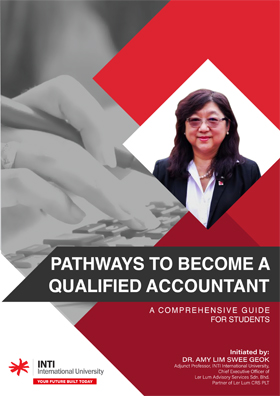 eISBN: 9786299734321
FORWARD
Malaysian government targeted to have 60,000 qualified chartered accountants by year 2020. Dr Lim Swee Geok, also known as Dr. Amy Lim, the Chief Executive Officer of Ler Lum Advisory Services Sdn. Bhd. on the other hand, had a burning desire to provide comprehensive information on the various pathways leading to a chartered accountant qualification to students upon enrollment in tertiary education. Besides, there being no single book available as a point reference on the certification and the awarding professional bodies, with Dr. Amy's desire crossing path with government's direction, saw her in initiating an eBook, 'Pathways to Become a Qualified Accountant.' Dr Amy holds a strong belief that every student, those pursuing an accounting degree, and those who are merely keen, deserves to bear sufficient knowledge on the available pathways to become a qualified accountant and by doing just that, they will be able to visualize clearly the paths that they intend to take, all whilst taking that step needed to reach, if not exceed, the government's mission.
E-book journey:
The e-Book was truly a memorable voyage. This journey was triggered by the need of an employer project in the Business school under INTI International University, and this fell right in line with Dr Amy Lim's vision. Thus, March of 2021 saw to the discussion pertaining to the initiation of the e-Book between Ler Lum Advisory Services Sdn Bhd and INTI International University. May 2021 then birthed the first draft of the 5 different pathways, all of which were carefully prepared by the BUS2201 students. From there, August 2021 BUS2201 students spent the next few months working diligently to fine-tune these pathways and compile them into an e-Book. It was at this point that they communicated with the respective accounting bodies to vet the pathways, ensuring that the information provided was accurate. The next course of action took place in January 2022 where the e-Book underwent thorough proofreading, editing and formatting. The process was challenging as it demanded every individual to be detailed. Dr Amy Lim scrutinized the drafts provided by the students.
Acknowledgments:
The task of writing this e-Book was no easy feat and could not have been achieved without the concerted efforts of the students of BUS2201 from class of May 2021, August 2021 and January 2022. The efforts of the students would have been made in vain if not for Dr Amy Lim and the many lecturers at INTI International University that supported these students whilst providing a professional guiding hand. Special thanks to ACCA, CIMA, CPA Australia, ICAEW and MICPA personnel for vetting the accuracy of the prevailing syllabus extracted from the website at the time of compilation of the e-Book. The relentless effort and support from all parties involved is what made the e-Book what it is today, a success.
Dr. Amy Lim Swee Geok
Adjunct Professor, INTI International University
CEO, Lum Advisory Services Sdn. Bhd.
Partner of Ler Lum CRS PLT